Learn from a community of enlightened individuals who decided to seek joyful lives by mindfully choosing peace and harmony.

As a health educator, Dr. Kweethai spent years teaching others how to adopt behaviors that promote positive physical and mental health. As a hypnotherapist, she discovered that happiness must precede true health in mind, body and spirit. One need not be perfect in all aspects of life to be happy, you only need do your best toward making right choices. Putting spirit first in the mind-body-spirit paradigm is key.

Dr Kweethai coined the term iHealth to describe an optimal state of consciousness wherein one finds a peaceful balance of happiness and health. You own your consciousness, which creates your reality. So, if you can create suffering, you can also create joy. iHealth is a state of peace and joy.

The purpose of the iHealth Lessons in Life was for Dr Kweethai to share how anyone can change life situations by changing their mind.
---
Lessons in Life videos
September 2016
---
June 2016
I Smell Happiness (Story)
---
Studio of Harmony
The Studio of Harmony at iHealth Center in Roanoke was created with the intention of promoting harmony to all who enter the space. Opened in December 2008, the Studio was funded by an inheritance from the estate of Dr Kweethai's father that was disbursed exactly 40 years after his passing. Chin Yoon Choong (Dr Kweethai's dad) had only two years of schooling, yet was a self-made engineer. His dream was to provide education opportunities for his family of eight children. Though he had little schooling, he valued education.

Dr Kweethai proudly built the Studio in his memory, to perpetuate a legacy of non-traditional education. This is her classroom with no boundaries. All are welcome who desire to learn and teach. The single requirement is to enter with an open mind and a willing heart.
Harmony breeds prosperity. In this spirit Dr Kweethai invites you to enjoy the Studio of Harmony with abundant blessings of peace and joy.
---
Background
The following is a description of parameters outlined for the class as it was being organized.
Participation by invitation
Dr Kweethai encourages discussion and collaboration; so, she has invited a select group to participate. The gatherings are planned monthly on a date selected by as close to consensus as possible.
The agenda varies by the topic each month, and by needs expressed by the members. The following are likely to be part of the agenda...
6:15 pm: The Studio opens (come and socialize) Meeting begins promptly at 6:30
Dr Kweethai's iHealth Lesson for the Day
Topic Discussion
Individual Life Challenges
Meditation
Meeting ends promptly at 8:30
The Studio is open for personal questions & socializing after the meeting
iHealth Lesson for the Day
Dr Kweethai will post a series of topics but is open to special requests and will do her best to accommodate them.
Individual Life Challenge
Participants may bring up a personal challenge as an opportunity to help each other practice the things you are learning, with Dr Kweethai's support. If you have a pressing issue, inform Dr Kweethai before the meeting starts so she can allocate time appropriately. This is also a time to share significant life lessons with the group.
---
What do you benefit?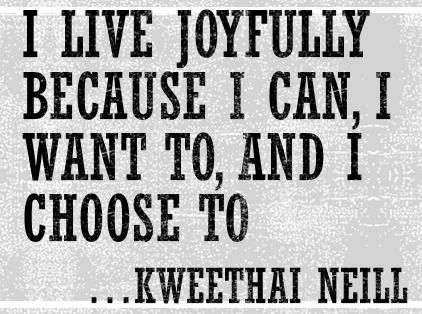 An Extraordinary Learning Experience with Dr Kweethai.
Once a month, retreat from the humdrum of life and connect with others; engage positively with a community of like-minded beings. You will leave exhilarated and renewed. It is a wonderful way to start each month!
How do I know if it is right for me?
The first session was recorded and uploaded to YouTube, see above. A highlight video will be posted to YouTube after each session. If the content and experience are meaningful to you and resonate with your desires and values, you can apply to be a member.
---
Interested?
Invitations to the first meeting went to persons with whom Dr Kweethai is personally familiar. A couple former students and clients made other suggestions. In other words, the membership, in general, is familiar with Dr Kweethai's work; and therefore understand this special and unique opportunity to learn from her.
So...let's say you have read most of this website, watched the videos, read a few blog posts...and you like what you see. If, after all that, you would like to participate in the iHealth Lessons in Life; contact Dr Kweethai directly.
Whether you attend the live sessions, or watch them later online, you are certain to benefit from Dr Kweethai's grace, knowledge, and wit.
Thus ends the text from the original program offering and invitation. If you would like iHealth Center to offer a course similar to this again, please contact Dr Kweethai.
---